The Config area provides all the tools necessary to manage the various settings which control the running of a Toolkit.
Navigate to Config > System to see the menu of options available.
Organisation Structure
The Organisation structure tab allows a controller to make changes to how their organisation is represented within their Toolkit.
This tab provides mechanisms for maintaining the Departments, Locations, Job Titles, Currencies, Genders and Cost Centres. Adding, updating, and deleting items in any of the sections follows standard myhrtoolkit paradigms.
Holidays
Many aspects of the Holiday functionality in myhrtoolkit are available to be configured by a Controller.
This tab exposes
Calendar
The Calendar appears in many places throughout myhrtoolkit. This tab enables a controller to specify user and manager access to it, administer custom alerts (including the sending out of notifications of holidays booked on alert days), and whether integration with third party calendars (Google, Apple, etc) is enabled.
Absence
Myhrtoolkit has powerful functionality for recording and reporting on absence, both sickness and general absence. This tab exposes the various settings a controller can use to tailor their Toolkit to their organisation.
General Absence
New general absence types can be added or edited here. For further details about General absence, see the Guide to General Absence.
Sickness Absence
The settings available allow control over
whether a user can self-report their sickness.
whether to record sickness events in hours as well as days.
the maximum number of contractual sick days in a rolling 12 month period.
whether absence managers can book contractual sick pay in excess of the specified limit.
the 'Back To Work' template used for when an employee returns from sickness absence.
The Sickness Absence FAQ has additional advice on the use of these settings.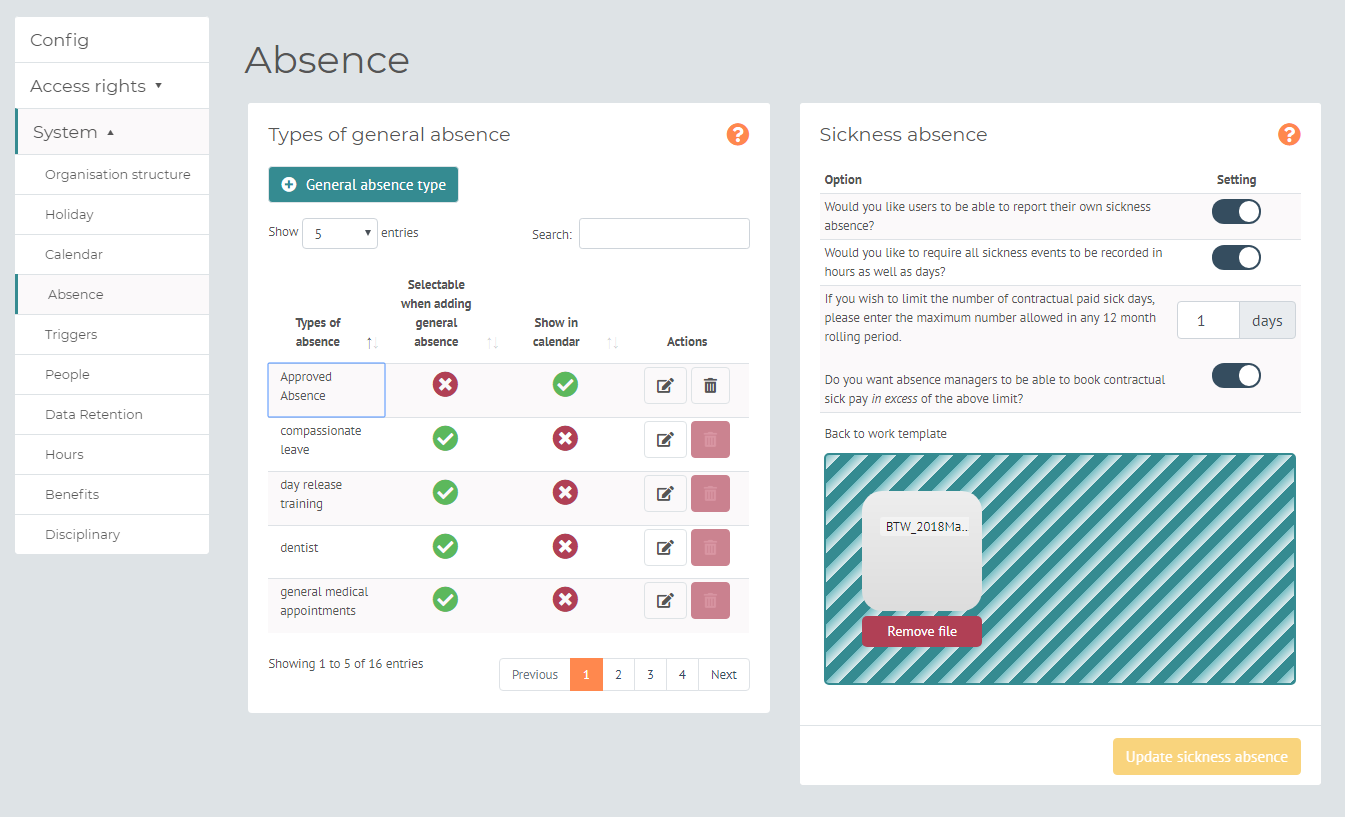 Triggers
Triggers are a powerful method of keeping on top of employee absence, spotting trends and enabling employers to get alongside and work with employees who may need additional help in the workplace.
A full guide to Triggers can be found here.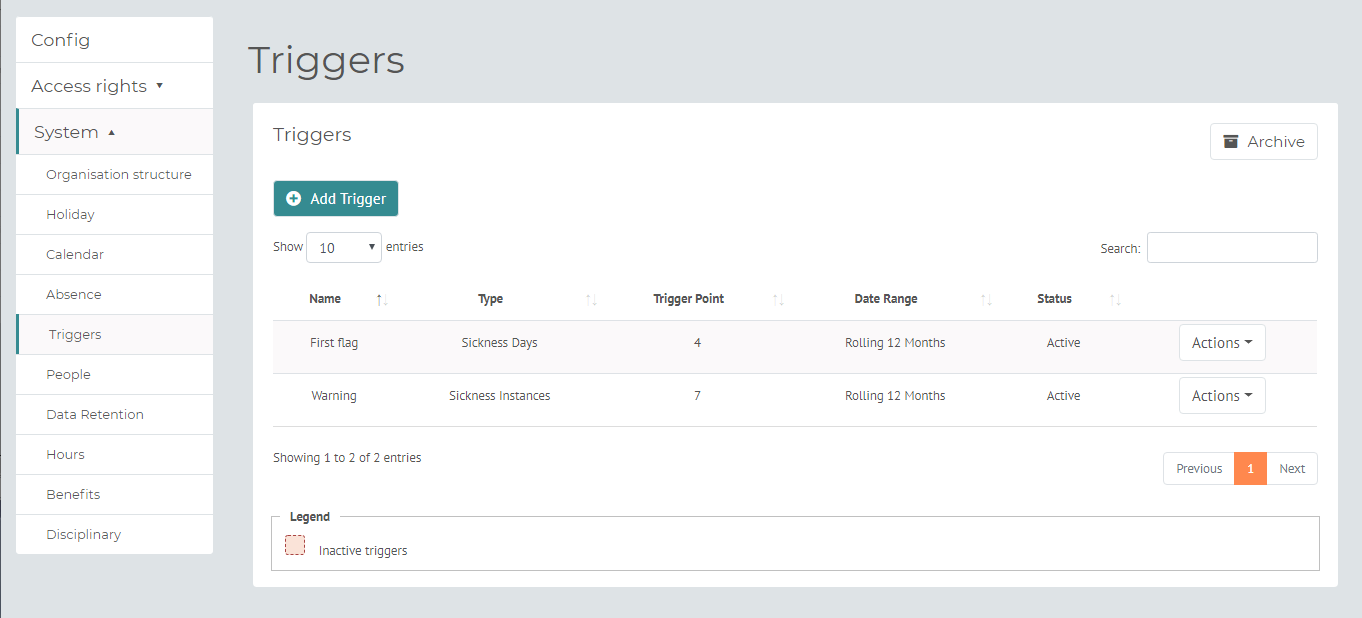 People
The People tab gives access to a range of settings that control what personal data a user can see that is held about them, and what other users may be able to see about them via the Employee directory.
Data Retention
The Data retention tab gives global control over how data is processed when an employee leaves an organisation. The text under each option explains what happens to the data.
This setting governs the default behaviour for a leaver.
Note that managers can be given permission to set their own individual data retention settings for leavers they manage via Config > User permissions. If a leaver is processed via Individual data retention settings, they will be excluded from any subsequent update made via the organisation wide Data retention policy. If required they can be switched back to the company-wide policy, however, this will not replace any previously deleted information.
Hours
This tab gives a Controller the access to settings affecting Hours worked profiles, TOIL, and Variable hours.
There are additional support guides available to help:
Benefits
This tab allows the adding, editing, and archiving of employee benefits, including any relevant documentation. Benefits added are further controlled/made available to users via the Management dashboard, and a user can view the Benefits available to them in Myhome.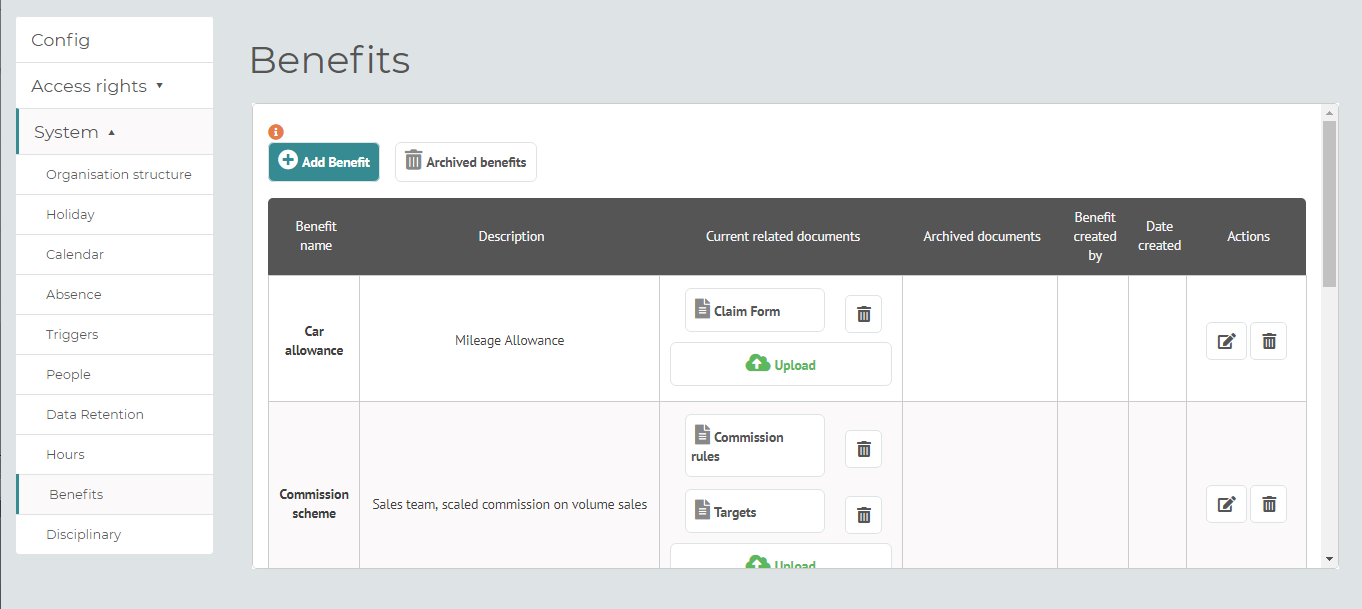 Disciplinary
This tab allows a Controller to specify the expiry times for disciplinary warnings within their organisation.
Further information about the use of the Disciplinary functionality in myhrtoolkit, including some legal notes, can be found in this support document.